Lose the cable, but Not the signals - Trusted Wireless transmission of analog and digital IO signals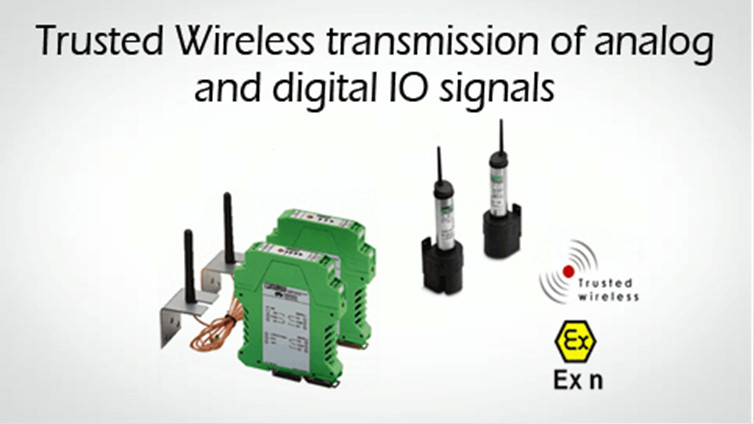 Trusted Wireless is a specially designed wireless technology for industrial applications. It serves to transmit data volumes of just a few bytes over several kilometers without cables. The FHSS method is used for band spread, which guarantees a high immunity to interference. No more worries for wear & tear of physical cablings and do away with all the installations complications!
The unidirectional and bidirectional Trusted Wireless system from Phoenix Contact has now been made EX-compliant. Suitable for applications in the EX area of Zone 2, transceivers can be used to transmit digital switching signals (5 - 30V) or analog sensor signal (4 - 20mA). The radio connection is established automatically after applying the operating voltage on both devices. No parameterization or programming is necessary. Extension modules can be mounted in a row quickly and simply via the integrated bus foot.
Besides DIN rail mountable devices, outdoor devices are also available for outdoor (IP65) installation.
Their good diagnostic properties includes the floating RF-Link contact and the analog RSSI signal allow continuous monitoring of the wireless path in the control cabinet and the outdoor version.
Certifications
IECEx