Unique Worldwide: The High-Performance Redundant PROFINET PLC from Phoenix Contact! RFC 460R PN 3TX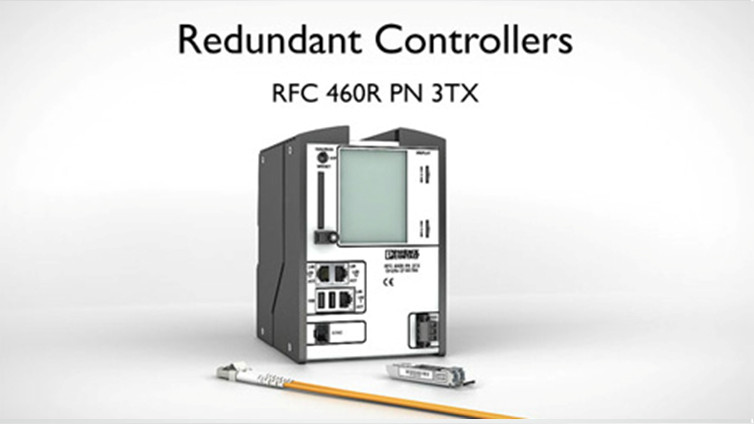 FOR MAXIMUM AVAILABILITY - REDUNDANT PROFINET CONTROLLERS
Uninterrupted process are vital in complex systems and large plants. Ensure the continuous operation of your automation - with the new PROFINET redundancy controllers from Phoenix Contact.
OVERVIEW OF A REDUNDANT CONTROL SYSTEM
The high-resolution display of the PLC shows all status messages as well as error states and displays them in plain text. Confirm these messages locally or carry out the setting directly at the device. Even these convenient local diagnostics are not supported by any other controller manufacturer.
As is the case with all Phoenix Contact controllers, the redundant PLC is also equipped with integrated web functionality. Programming takes place as usual with PC Works. You can also redundantly link any SCADA system via OPC. The OPC server automatically detects when a switch-over has taken place immediately supplies the date from the new PLC that has taken over the process.
YOUR ADVANTAGES
Easy startup and automatic configuration of all redundancy functions - thanks to Auto Sync technology, designed by Phoenix Contact
A distance of up to 80 km between the controllers via fiber optics, cost-optimized thanks to plug-in SEP modules
Uninterrupted process - even in the event of failure or when a controller is replaced
High-resolution display: for displaying status and error messages in plain text
Optimum device integration, thanks to PROFINET standard; redundancy for your future-proof Ethernet network
Uninterrupted visualization - thanks to redundancy-capable OPC servers
APPLICATION FIELDS
Tunnel (Traffic)
Water/waste water (Infrastructure)
Wind/Shipbuilding
MAXIMUM AVAILABILITY - THANKS TO REDUNDANT CONTROLLER
Do you agree that maximum availability via safe automation systems is becoming more and more an elementary requirement for automation solutions in all branches? The solution for guaranteeing this availability is the redundant controller! By extending your system with redundant controllers, you are able to increase the productivity and availability of your system in critical-mission processes and also prevent damage to your systems
CONTROLLER REDUNDANCY - PURE RELIABILITY
Redundant controllers are required above all networkable components. A failure of an automation solution not only associated with high costs but utmost importance, pose a life-threatening danger to people. For example, tunnel applications, power stations, water/waste water systems or applications in the process industry fall into this category.
Hence, the basis for setting up a stable system is a suitable architecture that can guarantee the switching time you require in the event of component failure. Phoenix Contact now offers the first solution for controller redundancy on the basis of PROFINET. The structure of the solution is simple:
Simply connect two RFC 460R PN 3TX redundant controllers via fiber optic synchronized connection
Choose between various, standardized SFP slots (Small Form Factor Pluggable) and determine the distance between controllers individually