Plastic plug-in connectors - for more efficient machine building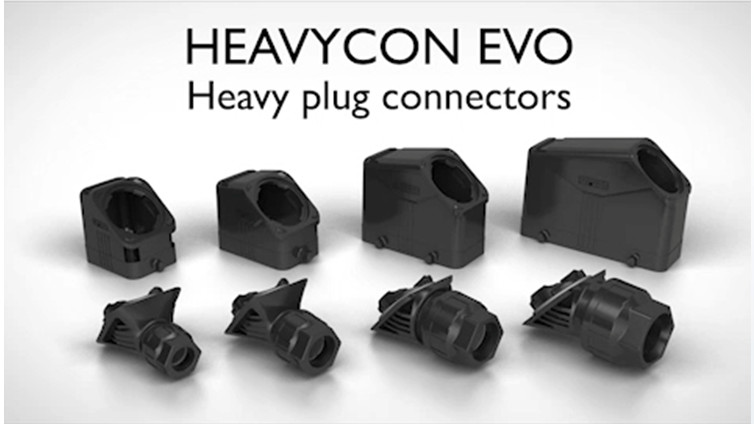 High degree of protection, quick and easy assembly, and exceptionally rugged design - these are the key features of heavy-duty plug-in connectors from Phoenix Contact. Whether for use offshore or in the food industry, you'll find the right product here.
YOUR ADVANTAGES
Comprehensive product range - variable connection technologies for contact inserts and terminal adapters
High flexibility, with a choice of housing versions depending on the application
Modular contact inserts enable adaptation to customer-specific applications
Power distribution with stackable plug-in connector
EVO PLUG-IN CONNECTORS WITH LOCKING LATCH
Heavy plug-in connectors are established in the market and are used in applications requiring rugged plug-and-play solutions. Trust HEAVYCON EVO, and save warehousing costs.
With the new plastic plug-in connector, you need only a sleeve housing for every application. The use of high-quality materials and full compatibility with the industry standard enable failsafe use in a wide range of applications.
PROPERTIES OF EVO PLUG-IN CONNECTORS
Bayonet locking cable gland permit 70% reduction in the number of housing variants
Flexible adjustable cable outlet direction
Housing made from fiberglass-reinforced polyimide PA-GF
Compatible with all metal industrial plug-in connectors available on the market
Compatible with series B contact inserts and modular
PE contact lead ensured by means of metal inserts
Increased cabling space thanks to angled cable outlet
PLUG-IN CONNECTORS AND SUPPORTING BASE ELEMENTS
Use EVO plug-in connectors with the following locking methods
Single locking latch
Double locking latch
Various supporting base elements are available as required:
Panel mounting base
Box mounting base
Coupling housing
In addition, modular contact inserts are available for individual assembly