First LED UV Technology Printer from Phoenix Contact - New high-speed, energy-efficient Bluemark Printer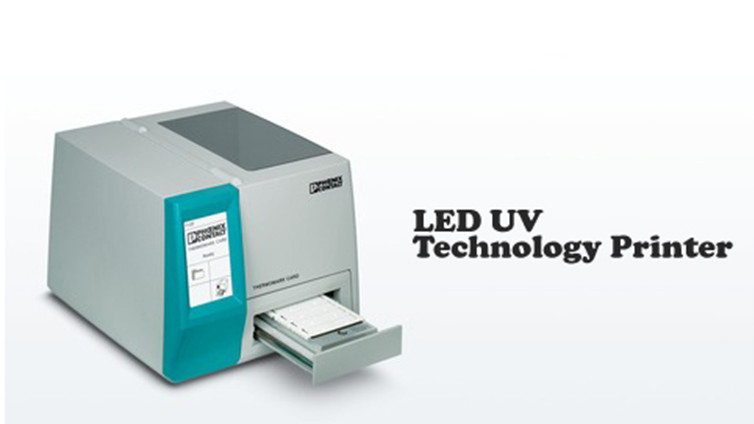 BLUEMARK offers the following advantages over traditional printers:
Up to 300 percent smaller - fits on your desktop
No more smudging, smearing or fading from traditional water-based ink printers. Just clear, permanent printing that withstands the harshest environments.
Environmentally friendly, since it is without emissions and has 90% lower current consumption.
With no warm up time it offers outright readiness with low noise, since there are no fans due to efficiency of the LED's
Up to 50 percent faster - prints up to 10,000 individual markers per hour
Less material waste - run marker cards through the printer multiple times
Now equipped with ultraviolet wavelength LEDs instead of UV lamps, BLUEMARK uses 75 percent less energy, reducing your cost and increasing your efficiency even more!
The Bluemark LED printer from Phoenix Contact makes the marking of plastic labels for DIN rail terminals, devices and cables as easy as printing on paper.
The solvent-free labeling fluid makes the Bluemark LED printer suitable for clean rooms producing labels that are wipe and scratch proof.
As well as featuring large operator display, connectivity via USB, Ethernet and Bluetooth interfaces make it easy to operate and control.
The new BLUEMARK is quieter, too. Because LEDs give off only a nominal amount of heat, we removed the cooling fans and reduced the noise level by 7 decibels.
With up to 10,000 labels an hour, LED UV technology ensures a fast and environmentally friendly printing process.
With CLIP PROJECT advanced planning and marking software, BLUEMARK creates plastic terminal block markers as well as wire and equipment markers. Unicasts compatible with Wieland, Entrelec, ABB, Wago, Weidmuller and Allen-Bradley terminal blocks are also available.
Stop wasting time and resources with traditional printers - out with the old and bring in the new, greener BLUE.