Cable Entry Systems | PLUSCON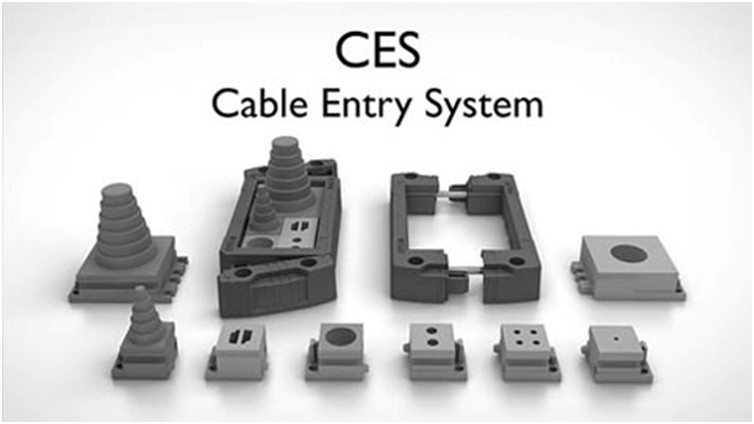 Efficient cable entry with system
Cable entry systems are in increasing demand as an efficient alternative to heavy-duty plug-in connectors and cable glands. They can be used to route assembled cables directly into the control cabinet, to devices, and onto DIN rails without an additional plug-in connection.
For the first time ever, using the unique sealing frame with locking latch you can replace and seal cables without the need for tools. Phoenix Contact offers a well-designed system solution: from system and field cabling to the DIN rail.
The new CES cable entry system from Phoenix Contact offers:
Space savings over conventional plug-in connections and cable glands
Tool-free mounting using unique sealing frames
Reliable locking, strain relief, and seal with IP54 protection
Simplified installation and reliable seal up to IP65 using coned sleeves
Direct and easy mounting on standard panel cutouts
A wide product range for various different requirements
Sleeve Assembly
Select and arrange sleeves
Snap sleeves into sealing frame and position sealing frame
Push sealing frame together and lock
Your Advantages:
Save space and costs
The CES cable entry system allows water and dust-proof insertion of a variety of cables into areas with limited space in control cabinets, distributor boxes or devices.
Split sealing frames with metal reinforcement
The sealing frames, which can be split, provide a reliable seal and strain relief for pre-assembled cables according to DIN EN 50262. The plug-in connectors are simply led through the panel cutouts. Thanks to the integrated metal reinforcement of the plastic frames, only two locking elements (screws or latches) are required on the front.
Variable mounting options
The CES sealing frames can be mounted directly on standard panel cutouts (e.g., Rittal) for industrial plug-in connectors. Snap-on frames are available to simplify on-site installation.
Optional locking
Sealing frames with screw locking and locking latches are available. The locking latch does not require any tools, which makes it really quick and easy to use, even in places that are difficult to access.
Ideal for industrial plug-in connectors
By widening the standard Rittal cutouts from 35mm to 51mm, even wide rectangular HEAVYCON industrial plug-in connectors can be swiveled through mounting panels and sealed and provided with strain relief using the CES cable entry system.
Cable sleeves for every application
The gray thermoplastic sleeves exhibit a low level of flammability according to UL 94 V0 and are resistant to acids and lye's. The black rubber sleeves (NBR) perform significantly better in the long term, particularly in the event of temperature fluctuations. The material used is halogen-free and resistant to oils, flues, and grease.
Fast installation and a reliable seal
It only takes two coned sleeves to seal any cable diameter ranging from 2 to 24mm. The coned sleeves are cut to the relevant length and pushed onto the cables before the plug-in connectors are assembled. There is no longer any need to select corresponding slotted rubber seals on site, which can be a time-consuming process, and the reliability of the seal has been significantly improved for ratings up to IP65. Cable binders can be used to further enhance the long-term strain relief and tightness of the coned sleeves.