No more worries for wear & tear of physical cablings and do away with all the installations complications!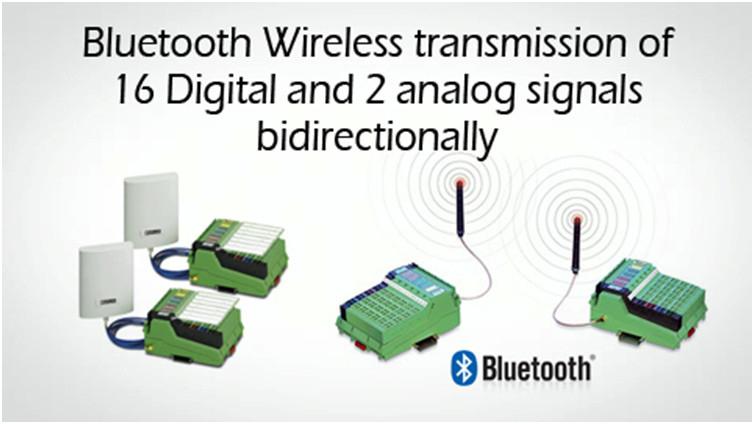 Lose the cables, but NOT the signals - Bluetooth Wireless transmission of 16 Digital and 2 analog signals Bi-directionally from Phoenix Contact
With the new Wireless MUX solution, you now replace a 40-wire signal cable and transmit 16 digital and 2 analog signals bi- directionally wirelessly for digital and analog signals between two points over a distance of up to 400 m, depending on the conditions.
The wireless technology used by the Wireless MUX is the open industrial standard BluetoothTM (IEEE 802.15.1).
The signal connected at one input of the Wireless MUX is output at the corresponding output of the "paired" Wireless MUX module in less than 10 ms. The Wireless MUX is sold as a "Ready to use" package: You unpack it, connect it and switch it on, and already you have a wireless path!
Applications
The Wireless-MUX is used everywhere where few digital or analog input and output signals have to be exchanged wirelessly with a remote or mobile station.
2 different packages available:
a standard package with an omnidirectional antenna, ranges between 50 and 100m in halls, 200m outdoors can be realized
a package with panel directional antenna where unobstructed distances of more than 400m can be bridged over outdoors
Certifications
CUL, UL